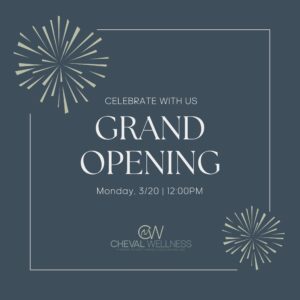 Please join us & the Greater Pasco Chamber of Commerce for our Grand Opening at the Renewal Day Spa of Trinity on Monday, March 20, 2023 at 12:00pm!
Hello everyone!
My name is Angela Mineo and I am an autonomous primary care nurse practitioner with 15+ years of experience in healthcare. I am excited to announce the opening of Cheval Wellness, a direct primary care clinic located within the Renewal Day Spa of Trinity.
Through our membership based Direct Primary Care, you can enjoy unlimited extended visits, same day appointments, discounted medication and lab work, and 24/7 access to me through messaging or email – all for a low monthly fee. To ensure exceptional service, we will be limiting the number of clients under our DPC model. This is an excellent option for those with high deductible health insurance plans, cost-sharing plans, or no insurance at all.
In addition to our DPC services, we are also offering a personalized weight loss program that includes the latest nutrition plans and medications, such as semaglutide, that are backed by research.
To learn more about our services, please visit the rest of our website at www.chevalwellness.com. If you have any questions or would like to set up an appointment, please don't hesitate to contact us by text, phone call, or email. We are also offering free 15-minute meet & greet appointments to answer your questions and determine if we are a good fit for you.
Thank you for considering Cheval Wellness. I am eager to work with you to make your healthcare more personal.